For Sale
well worn exotic dancer heels. I have worn these 6 nights a week for 2 years. The scent coming off these is extremely strong. You will be extremely satisfied Size 9$100
For Sale
Well-worn, ankle socks with neon blue detailing. womens size 5 feet. Worn to workout, currently unwashed and sealed. Very soft and aromatic.
For Sale
well worn womans athletic shoes
For Sale
4 pairs of socks worn by hot 19 year old girls for a week. we went to the gym in them, work in them, everywhere in them. with sneakers on.
eBay
Pleasers Size 6 Black Open Toe Faux Suede Flamingo 1021fs - Well Worn Heels used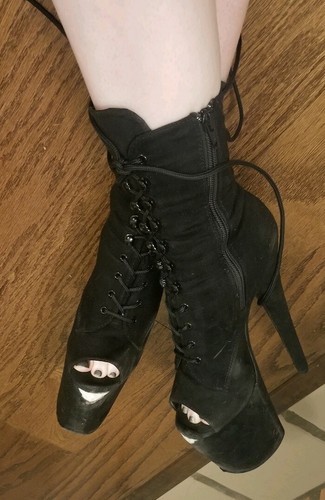 Black faux suede open toe pleaser boots Size 6 Style flamingo 1021fs Dance shoes Used See photos for condition Will clean to ebay standards prior to shipping
For Sale
Heavy. 7.5 ft long, 4 ft deep.tatty but still comfortable
For Sale
Pink panties I wore for 2 days. In the process they had baby juices and natural female aromas and juices.