For Sale
Century Free-Standing TrainingPunching bag. Fill with sand or water. Great condition, hardly used. Was never used for hard training. Must have a truck or SUV for pick-up. $75
For Sale
Never used century wave master punching bag. Set it up and never used it. Still new. Adjustable from 48-68 inches. Fillable base with water it sand. Brand new is 165, asking 125.
For Sale
For sale is the original Wave Master Punching Bag on Stand, asking $75. It is in great condition with no rips and comes with boxing gloves.
eBay
Elliptical machine grey and black, and a black wave master punching bag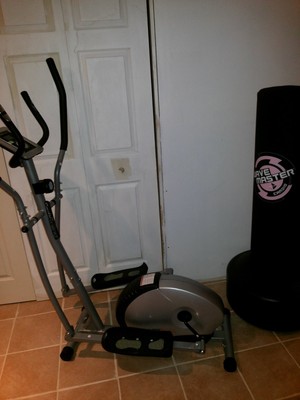 An Elliptical machine cardio trainer and a punching bag $230 each, for more info please call or text.price can be arranged
For Sale
WAVE MASTER PUNCHING BAG
For Sale
Wave - The Original Water Core Bag and Accessories chains and punching gloves Excellent condition.
For Sale
Wave Master Punching Bag in great condition. Stand is adjustable.
For Sale
Punching Bag. Mint never used really.
For Sale
Like new. I have owned it for over 4 years and it never gets used.
For Sale
In great shape would make a nice Christmas gift $50 443-243-758 three
For Sale
Wave master original Self standing kicking, punching, boxing
For Sale
Gently used, great condition. Fills with either sand or water weighs roughly 270 pounds when filled.Stands 69 inches tall and measures a full 18 inches in diameter
For Sale
Nice condition Priced right it you can use it. You or your child beats on it for a couple years and then you sell it for what you bought it for.