For Sale
Amazing delay echo and looper. It is THE delay pedal to have.Open to trades. Wont be trading for your TS9 and Digitech processor though. Let me know what you have, can add gear for a more valuable item
For Sale
One of my favourite pedals for synth modulation - but never had the chance to really use it intensely. Bought it new Bananas at Large and used it very rarely because of limited time.Strymon TimeLine Delay Pedal at a Glance- 12 delay machines with dedicated controls and 200 ...
For Sale
Strymon Timeline Delay Pedal
... equipped with a delay algorithm of studio class.
eBay
STRYMON TIMELINE DELAY BRAND NEW Guitar Effect Pedal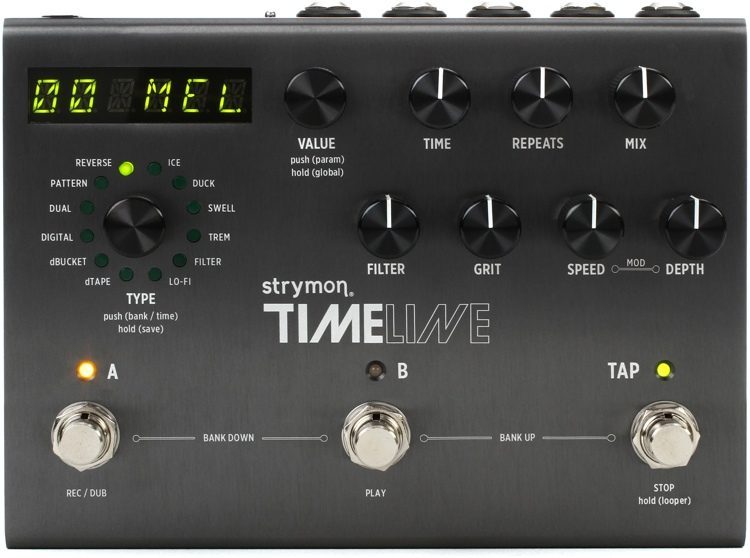 ----- ITEM DESCRIPTION ----- Title: STRYMON TIMELINE DELAY Condition: BRAND NEW Brand: STRYMON Pedal Type: Delay Analog/Digital: Digital Looping Time: 30 seconds Inputs: 2 x 1/4 stereo, Expression pedal Outputs: 2 x 1/4 stereo MIDI I/O: In/Out Bypass Switching: True Bypass ...
For Sale
Selling this strymon timeline Perfect conditon. Still has the sticker for the menu. Only trades considered are1. strymon ep capistan v2cash or2. Tc electronic ditto looper x2cash3. Pedaltrain novo 18 cashOr any combinations between these pedalsboard. Thanks.
For Sale
Strymon Timeline delay pedal with a Disaster Area DMC pedal. I purchased the DMC to control the Timeline, but I never got around to using them together. Please ask if you have questions.
For Sale
Used Strymon Timeline delay pedal. Light use. Great condition. No trades.
For Sale
Like new Timeline for sale. Includes power supply and manual. $350 CASH. No trades. Call .
For Sale
I am thinning the herd. I have way too many pedals. The Timeline is the widely considered the best delay pedal made. It holds 200 presets, has all delay types and a looper. It can also be controlled by midi and expression pedals. Call text John at
For Sale
Amazing delay echo and looper. It is THE delay pedal to have.Open to trades. Wont be trading for your TS9 and Digitech processor though. Let me know what you have, can add gear for a more valuable item