For Sale
This cultivator can be setup to throw soil AWAY from the row when the crop is small which allows for higher speeds on the first pass. Then, the gangs can be switched back to throw soil TOWARDS the row to bury weeds in-row when the crop gets taller, allowing for even faster speeds. The gangs ...
For Sale
1 ROW ROLLING CULTIVATOR, three POINT HITCH. $250 CALL OR TEXT .
eBay
Lilliston 2000 Rolling Cultivator Owner Operator's Manual *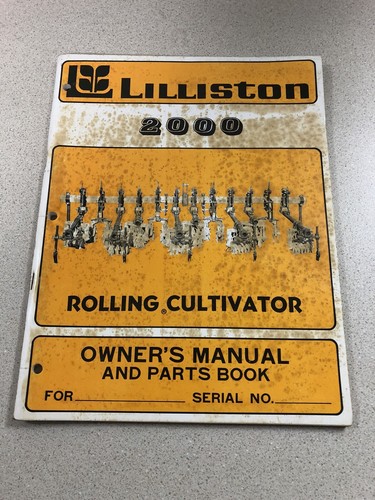 Lilliston 2000 rolling Cultivator Operators manual. Condition is Good. Shipped with USPS Media Mail. Check out the other manuals in my other listings Free Shipping to the U.S. Check my feedback and rest assured
For Sale
4 rows of KMC rolling cultivator disk. Only used on 50 acres two years. Call
For Sale
Rolling cultivator. $500. Call . Calls only.
For Sale
4 row rolling cultivator, hasnt been used in a while. If interested text
For Sale
KMC rolling cultivator with both the three blade hillers and the 5 finger spiders. Disc fertilizer openers and two wheel drive fertilizer system. 48 setup 4 rows. Call with any questions leave a message I will call back. Also see my ads for a setter, rotovator, and bedder. ...
For Sale
Lillston 4 row rolling cultivator, 3pth, good cond. $975
For Sale
Lillston 4 row rolling cultivator, 3pth, good cond. $975
For Sale
16ft wilrich field cultivator good condition I cut it down from 22 ft so I have all the extra shanks and springs. Not in the picture or on the cultivator right now is a 3 tine harrow it is included asking $1200 obo. Also for sale is a 16ft rolling harrow good condition but ...
For Sale
15 Foot Perfectta Cultivator with Rolling Baskets-$2200-Call
For Sale
14 Foot Massey Ferguson Field Cultivator with Double Rolling Baskets-Field Ready-$2500.NO TEXT
For Sale
20 ft killbros cultivator walking tandems on main framefabricated self leveling hitch to keep level remlinger 3 bar harrowfairly newerhitch with hydraulic couplers21ft Unverferth rolling harrow II. I have the harrow bars to bolt back on, I just didnt use them. Text or call ...
For Sale
FOR SALE 8 x 30 - 378 White Cultivator with Rolling Shields - $375
For Sale
Case ih 4600 cultivator. 27.5, like new sweeps , five bar harrow. $5000Unverferth 28 roiling baskets.$5000 Call or text765-five one seven -2507