For Sale
Item up for sale is a used power broom head in working condition asking $100.00 for power broom head
For Sale
York 3ft power broom modelYBWB3 cost 3800.00 price 2100.00 reduced 1850.00 less than 8hrs of use, nylon-steel broom
For Sale
GDAE10 Outdoor Hand Held Broom, 52cc Gas Power Broom Walk Behind Sweeper Cleaning Driveway Tools High Performance Cleaner 2.3HP 1.8M (US Stock)
★2 cycle gas/oil mixture, hand held power sweeper. It`s ideal for cleaning lawns from with sand imbedded, or walkways. ★Wide hand held gas broom for cleaning boulevards and driveways. ★Nylon Brush Sweeping broom is good for cleaning up of light debris such as heavy loose ...
eBay
52cc Gas Power Broom Walk Behind Sweeper Hand Held Cleaning Driveway 600mm Wide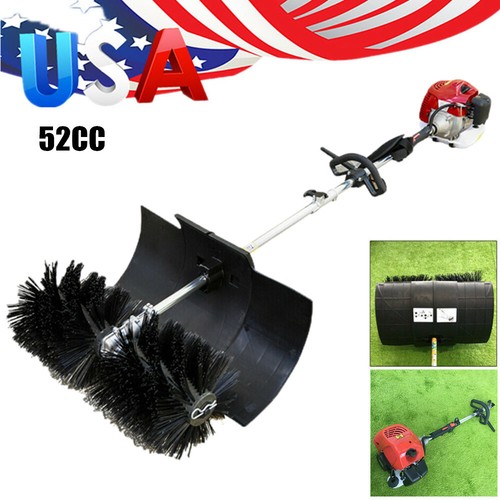 Store category Sign Up Now ! You may also like 2.3HP 52CC GAS Power Hand Held Cleaning Sweeper Broom Driveway Artificial Grass Product Description Dear customer:We have two products shipped randomly, with small differences in color and detail.But there is no difference in functionality.Thank ...
For Sale
STIHL POWER BROOM I BOUGHT THIS TO GRASS DRAG A SNOWMOBILE BUT I never RACED ON THE GRASS
For Sale
MB power broom for lawn, parking lot good for all season, great for clearing snow off side walks. 8 hp Koehler engine works great
For Sale
Selling a 36 Exmark power broom. It has 2 reverse speeds and 6 forward speeds. It can angle either direction. Asking $1950.
For Sale
Selling an Exmark 36 rotary broom, machine is in nice shape. Runs good, drives nice, brush is in nice shape and engages fine. Was used at a school to brush off Astro turf, so maintenance was always kept up. Email me, too many scam texts to put my number anymore.Kurt
For Sale
Uni-Tatch Power Broom with gauge wheels runs off a PTO and bracket for 300 series John Deere Hydraulic 4 way mount for 300 series John DeereQuick attach blade that works with 4 way mount.
For Sale
TURF TEQ POWER BROOM ATTACHMENTMODEL A1300BSERIAL SW0889A46 X 18 100 POLYPROPYLENE BRUSHMOUNTS ON TURF TEQ MULTI-USE TRACTORLIKE NEW
For Sale
Ariens 28 Power broom only used three times. Has Electric start Subaru engine. They are $2199 new. Works like new, only 2 years old. If interested call Mike
For Sale
2 brand new powerbroom drums with axles
For Sale
HAVE A NEW POWER WASH - TRI KLEEN ROLLING 3 HEAD WATER BROOM Used for 1 hour, GREAT FOR POWER WASHING SIDEWALKS, DRIVEWAYS, POOL DECKS, ETC. $60.00CALL or TEXT STEVE