For Sale
New, never framed owen Gromme print - Mirrored Image - Cardinal Signed and numbered 592850 Overall size - 16.5 x 19 Image size - 11 x 14 We have 3 other Grommes listed - all never framed -Fox and Kits -Trio of Ruffed Grouse -Hummingbird
For Sale
New, never framed Owen Gromme print - Red Fox and Kits Signed and numbered 36850 Overall size - 23 x 28 Image size - 17.5 x 23 We have 3 other Grommes listed - all never framed -trio of Ruffed Grouse -Hummingbird -Mirrored Image - Cardinal
For Sale
New, never framed Owen Gromme print - Trio of Ruffed Grouse Signed and numbered 480850 Overall size - 23 x 28.5 Image size - 17.5 x 23.5 We have 3 other Grommes listed - all never framed -Fox and Kits -Hummingbird -Mirrored Image - Cardinal
For Sale
Owen Gromme - Day`s End - Mixed Bag Artist`s Proof on Paper
Fine Art Print on Paper Limited Edition of 40 Image Size 18 x 22 Signed by Owen Gromme
eBay
Owen Gromme Sunset Canada Geese Signed Limited Edition Art Print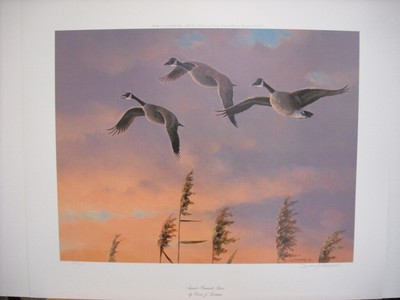 Owen Gromme Sunset Canada Geese Signed Limited Edition Art Print Description Owen J. Gromme Sunset-Canada Geese This is a limited edition print by Owen J. Gromme. Signed & Numbered edition size of 850 The image size is 22 X 17 It was published in 1984 . It is in mint condition ...
For Sale
New, never framed Owen Gromme print - Hummingbird Signed but not numbered Overall size - 14.5 x 19.25 Image size - 10 x 14 We have 3 other Grommes listed - all never framed -Fox and Kits -Trio of Ruffed Grouse -Mirrored Image - Cardinal
For Sale
Owen Gromme Signed , Numbered , Framed PrintsBaltimore orioles and apple blossoms 404 of 850 1973Scarlet Tanagers 329 of 850 1981with frame measures 22.5 wide, 26.5 tall approx.$100 each
For Sale
Professionally framed with double matte.Limited to 850 prints17-34 x 23-12 Image Size24 x 28 Frame SizePublished in 1978Frame and matte included for free. Current value of print alone is $200. Value of framing is over $200.
For Sale
Owen J Gromme Cardinal, limited edition print of painting, I believe the print itself is 16x19. $35 OBO.