For Sale
I have a Oneway 2436 wood lathe for sale that needs a good home. 220Volts to run the 3HP motor. Has variable speed and in excellent condition. You can turn a 24 bowl or up to a 36 spindle.Comes with multiple face plates, two tool rests, oneway live center with cone, a custom ...
For Sale
Oneway Live Center
Oneway Model #2064 #2 Morse Taper - For most standard and large wood lathes with a #2MT tailstock quill Kit Includes Live Center, Full Point Cone, Bull Nose Cone, Center Point and Knockout Rod
eBay
Oneway Vari-Grind Attachment for the Wolverine Sharpening System Jig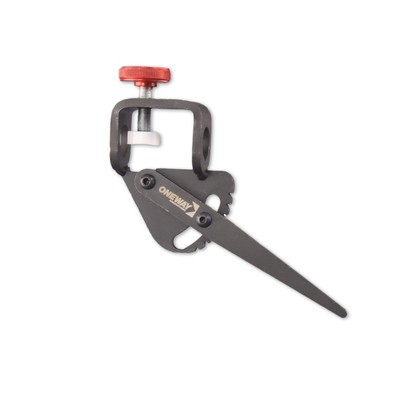 The Woodturning Store - Visit Our eBay Store Get FREE SHIPPING All Promotions About Us Oneway Vari-Grind Attachment for the Wolverine Jig 52.99 Oneway Vari-Grind Attachment for the Wolverine Jig. The Wolverine Vari-Grind will properly shape and maintain the edge on standard ...
For Sale
This is a Oneway wood Lathe Bowl Steady 3248 Cl Block 3154-244 for 2-12 Lathe Bed Gap.This unit appears unused but will come in generic packaging.The cl block is designed to fit lathes with a 2-12 bed gap. If you have a different sized bed gap, please email us...we may be ...
For Sale
Model 2436Owned by the same hobbyist family since new. Lots of Oneway accessories. Has the optional 2hp.220V Motor. In excellent like new condition. Asking $5,200 ... OBO. Call or text Five seven Five 7 zero 7 zero 8 six one
For Sale
1224 Oneway Midi Lathe 12 swing over the bed 9 swing over Banjo 24 between centers 11 Stainless Steel Toolrest with 1 Post 2 step pulley 0 - 2000 0 - 4000 rpm Two position Control Box Spindle is hardened and ground Spindle Thread 1 - 8tpi RH inboard - 16tpi ...
For Sale
This is a oneway termite end grain hollowing gouge complete with two tips, and sharpening tools. Designed to hollow bowl while working on end grain this is a safer tool than the more aggressive bowl gouge.
For Sale
Includes skew grinding attachment, 2- bases, and long rest for turning tools. Phone calls only no texts.
For Sale
3 point , 25 inch disc FIX YOUR TERRACES one disc has weld on it picture 4 , heavy piece iron
For Sale
3 point , 25 inch disc FIX YOUR TERRACES one disc has weld on it picture 4 , heavy piece iron
For Sale
Brand new, never used