For Sale
Vintage Meucci pool Cue - over 25 years old - good condition
For Sale
This meucci Cue Stick cost $1,400.00 The 314 Stick Cost $244.00 The special cue ball cost $24.00 and the hard leather case cost $35.00That is a total of $1,703.00 I am selling this real inexpensive
For Sale
Rare Meucci pool cue - Freshman 275-80 conditionVery nice, very collectible, very hard to find limited production.Includes caseSerious inquiries only.This is listed on eBay if you prefer.Call or text 9O1-299-863two
For Sale
Meucci Original Cue 84-4 (Meucci Original Cue, 19 oz)
Cue Details - The Meucci Original 84-4 cue starts with an ivory-colored composite butt plate with alternating checkered ringwork mirrored at the joint There are two composite points surrounded by black, orange and green veneer are not inlaid, but are true prongs spliced into ...
eBay
IN STOCK, Meucci SWBB1 w/ The Pro Shaft, FREE HARD CASE, Skyler Woodward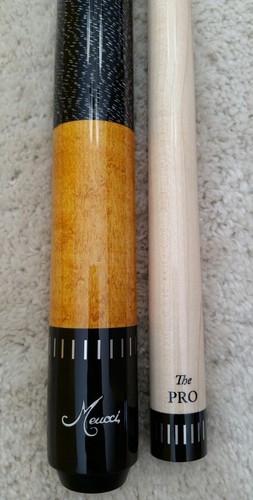 ☆Check Out My 1000 Other Pool Cue Listings☆ (Anything That Appears To Be A Mark On The Cue In The Photos, Is Simply Glare From Lights) The Pool Cue Shop Is An Authorized Meucci Dealer. NO WAITING, THIS CUE IS IN STOCK AND READY TO SHIP TODAY. New Meucci SWBB-1 Cue w/ The ...
For Sale
For sale or trade I have an original Meucci gambler n great condition, let me know what ual got
For Sale
Hello and thanks for having a look.For sale is a vintage Meucci Originals Gambler model pool cue in the spades design. Everything rolls straight and is in great shape other than one very small chip in the clearcoat only the clear finish and not the wood on the forearm area. ...
For Sale
Pink meucci cue for sale
For Sale
meucci pool stick condition is like new has been in a case for the 2 weeks that I have had it
For Sale
Meucci Pool CueRolls straight, never usedAllen
For Sale
Meucci Pool CueRolls straight, never usedAllenBilliards, pool stick, pool, pool table, McDermott, Joss, Lucasi, Southwest, Mali, custom cue, high end cue, Schon, Brunswick
For Sale
Meucci 62 in. Low deflection black dot pool cue. Comes with two shafts and case. This was a limited edition less then 100 made. Great shape. For more information contact seller.
For Sale
This was purchased by my father in the mid 80s and I acquired it when he passed. I know that he paid at least $1000 at the time of purchase. It comes with a Huebler case.Its in excellent condition. The price range of these used is 600 to 1000 dollars without a case so the asking price is a ...
For Sale
The spades gambler 500 firm the shaft is a black dot 10mm first come first serve no holds unless youre coming now