For Sale
1977 maico AW250 runs good, mostly original, looks good. Maico only pipe. $3200.00Call 662-227-5295
For Sale
Maico
eBay
1983-1986 MAICO HANDLEBAR MOUNT ISOLATORS CONE 250 400 440 490 NEW AHRMA VINTAGE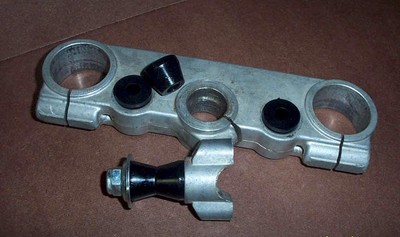 HANDLEBAR MOUNT ISOLATORS Manufactured by Rage Racing. Fabricated from polyurethane for durability, while still allowing great shock absorption. Comes in a set of four. Cone shaped. Replaces original Maico part number #6806. Fits 1983 - 1986 Maico models. 250 400 440 & 490. ...
For Sale
1978 Maico 440 Full Restoration, Maico only motor hand formed factory pipe with Richter silencer. Powder coated frame, Works shocks J6 fork springs. Renthal bars, ARC levers and billit throttle.All German plastic. This bike runs very strong. Only three hours run time since ...
For Sale
1974 Maico frame with 1971 Square-Barrel 400 close-ratio motor. Starts easy, shifts, clutches, and runs as it should. Caswell tank with 2 new petcocks no fuel or oil leaks. DID and Akront aluminum rims, 36mm Bing wtickler, SW shocks, aluminum pedals and brake stay. Fork tubes ...
For Sale
Very nice and Original Maico, Less then an hour of run time since total overhaul, New top and bottom end, ETC, For more info CALL Dave at 541-935-3067, Land Line.
For Sale
Really rare bike here. Please read up on it online. It was one of the best Maicos ever made. first year of the 5 speed and first year with long travel rear end. Complete except for fenders. Will run off of a prime or with an external fuel tank. This one holds but is not set up with fuel line. ...
For Sale
EBay has one at $350.00 without relatively recent calibrationDESCRIPTIONA light and small portable audiometer for basic screeningSmall and powerful audiometer the MA 25 is one of our smallest and lightest audiometers with a full range of testing opportunities. With only 3.5 pounds and a size ...