For Sale
1973 HONDA CB500K. Runs and drives great, current tags and title, mostly original. Carbs rebuilt and synced, new oil. New Stem bearings and fork seals. Seals replaced on the oil pump, shifter and counter sprocket stem. Tires are good. New battery. cb500, honda 500, vintage, cafe, cb500k, honda, ...
For Sale
for sale I have a lot of Honda CB motorcycles that I have decided to let go of due to lack of time to dedicate to them. There are 5 bikes total and I would prefer to sell them all together but can price them out individually if needed. I will list the bikes and post some ...
For Sale
Looking to sell my 73 CB500 Cafe bike. I just dont have the time to ride it anymore. 1973 Honda CB500 Cafe bike $3200.00 OBORear of frame has been cut to fit seat cowl, could use a hoop to really finish it off.Custom hand made fiberglass seat cowl and seat.Has upgraded rear ...
For Sale
2017 Honda CB500 640 miles bought new from Archies in New Bedford in June 2018. Like brand new. $4800.00 or best offer.
For Sale
Honda CB500 & 550 Fours: Performance Portfolio 1971-1977
eBay
1972 Honda CB500 REAR WHEEL HUB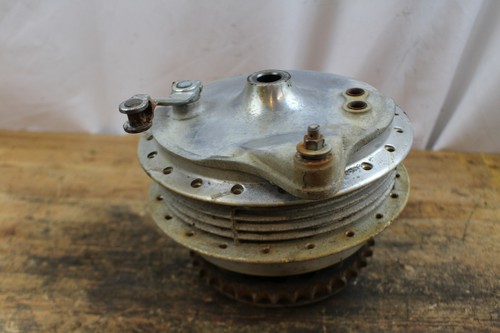 We buy vintage motorcycles, parts, and collections! 1972 Honda CB500 REAR WHEEL HUB The brake adjustment arm cylinder is stuck Removed From: 1972 Honda CB500 Please review all pictures to assess the condition of the item. Shipping We ship nearly all orders within 24 hrs and ...
For Sale
1973 Honda CB500 Four for sale. Runs and shifts well, all the electrics works. The bike has been well cared for and has had routine maintenance. Tires and suspension were refreshed in 2015 by Cyco cycles. Master cylinder brake lines and pads have been replaced along with the ...
For Sale
For sale is my 1973 Honda CB500 Four. I have owned this for the past five years after acquiring from the nephew of what was reported to be the original owner. This bike is a beauty with only 7441 original miles. Everything is original with the exception of the mirrors which ...
For Sale
1972 CB500 Four turned into a cafe racer.2004 GSXR front end, single disc brake up front. New fork sealsNew rings in top end, valves adjusted. Rejetted for the Steel Dragon airboxintakeNew coils, spark plug wires. Ricks RectifierRegulator upgrade and a Shorai lithium ion battery ...
For Sale
Honda CB500custom front end4 into 1 exhaust with shorty mufflerclean title in Non-oplots of powdercoating and stainless partsleaking small amount of oil on the right engine coversputtering at low end. might have to do with the spark plugscafe racer motorcycle moto motor cycle four cylinder
For Sale
14k miles, garage kept. New brakes, brake cable, throttle cable, gas tank w key, wiring, battery, side panels, shocks, and upgraded air box to cones. Clean title, ready to go. No trades, serious inquiries only please.
For Sale
SELLING MY HONDAGREAT COMUTER BIKE OR BEGINNERNEW CHAIN AND GOOD TIRESTEXT ME FOR AN APPOINTMENTNO FREE RIDESCASH ONLYPLEASE NO SCAMMERS