For Sale
Case 446 for saleNeeds electrical work, can hook up wiring enough for you to hear run and drive a short distance. Runs good.Call or txt 517six1seven5three5two$500
For Sale
looking for none running case lawn tractors 446 448 ,,,,nonoe runninghave welding table for trade
For Sale
case 446 garden tractor. All original components except the seat but not running. Needs engine overhaul or repower. $400 for tractor only, $600 with mower deck.
For Sale
Ji Case 446 448 Compact Tractor Operators Owners Manual No. 9-7080 Mower Onan
This is the same manual that would have been issued with the machine when it was new with instructons for use and maintenance This manual is correct for all years and serial numbers in model series New print of the Original Equipment Manufacturers (OEM) Manuals 64 Pages Heavy stock covers ...
eBay
Parts Manual For Case 446 Lawn & Garden Tractor (SN# 9770165-14041700)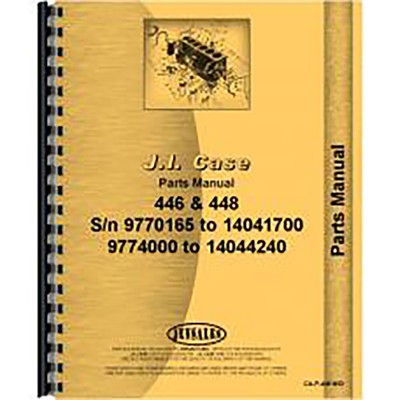 This Case model 446 Compact Tractor Parts Manual is a reproduction of the original factory-issued Parts Manual. This manual covers SN# 9770165-14041700. It has 96 pages of exploded diagrams of your Compact Tractor, detailed information on how to dismantle your machine, fix ...
For Sale
I am parting out a late 1970s Case 446 garden tractor. Call Clyde at for availability of desired parts and prices. The picture accompanying this listing is just a stock picture the tractor I am parting out does not have a Vanguard engine. My tractor has a 16hp Onan in it. ...
For Sale
Case 446 tractor mower runs great. Many options for attachments but only have the mower deck for it, I can be flexible with the price for serious cash offers. Text
For Sale
Case 446 tractor hydraulic drive high and low gear . Snow plow and tire chains .
For Sale
Case 446 tractor mower. Comes with 3 blade cutting deck in great condition. Someone did lots of work cleaning this up and getting everything working as it should. Has hydraulic drive, 2 speed cast iron rear axle. Built very heavy duty. Probably from 1979 - 1980. Onan motor. ...
For Sale
Old Case 446 in very good shape for an all original tractor. Hydro drive and lift, Onan 16hp engine. Tractor runs fine but is burning oil. I have a 48 inch mower deck that will go with it also, but deck will need some welding. Give me a call or text no emails please.
For Sale
I rebuild Onan engines. CASE B48M, and B43M. John Deere B43G, and B48G, And P216 -P218, and P220
For Sale
old case tractor that has been sitting in my garage for several years. It ran the last time I put it there, I have not started it since. It has a mowing deck and a bucket with it.
For Sale
Parts or restore. NO ENGINE. Has snowblower and mower. Too many projects here. Cash only. Shoot me an offer. Will not answer emails due to spam. Phone calls only please.
For Sale
Case Ingersoll 446 big wheel tractor in good shape. Has high and low hydro trans. Comes with 46 mower deck and owners manual. Has a Linamar engine and purrs like a cat. Come check it out. Thanks
For Sale
NEW AND USED PARTS FOR A ONAN B43M AND B48M ENGINEFOR AN INGERSOLL 446 AND 448